Irving O. Shoichet Distinguished Lecture

CATO LAURENCIN
University of Connecticut


REGENERATIVE ENGINEERING: CONVERGENCE IN ACTION
We define Regenerative Engineering as a Convergence of Advanced Materials Science, Stem Cell Science, Physics, Developmental Biology, and Clinical Translation. Work in the area of musculoskeletal tissue regeneration has focused on a number of biomaterial technologies. Polymeric nanofiber systems create the prospect for biomimetics that recapitulate connective tissue ultrastructure allowing for the design of biomechanically functional matrices, or next generation matrices that create a niche for stem cell activity. Polymer and polymer-ceramic systems can be utilized for the regeneration of bone. Through the use of inducerons, small molecules fostering induction, the design of regeneration-inducing materials can be realized. Hybrid matrices possessing micro and nano architecture can create advantageous systems for regeneration, while the use of classic principles of materials science and engineering can lead to the development of three dimensional systems suitable for functional regeneration of tissues of the knee. Through convergence of a number of technologies, with advanced materials science playing an important role, we believe the prospect of engaging future grand challenges is possible.
Date/Time
Wednesday, October 19, 2016
12:00 pm - 1:00 pm

Location
200 College Street
Wallberg Building
Room 116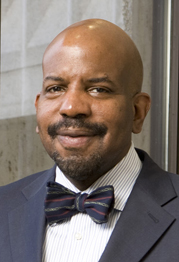 CATO LAURENCIN is the Albert and Wilda Van Dusen Distinguished Endowed Professor of Orthopaedic Surgery, Professor of Chemical and Biomolecular Engineering, Professor of Materials Science and Engineering, and Professor of Biomedical Engineering at the University of Connecticut. Dr. Laurencin is a University Professor at UCONN, the 8th to be designated in UCONN's 130 year history. Dr. Laurencin's research focuses on regenerative engineering, biomaterials, nanotechnology, drug delivery and stem cell science. Dr. Laurencin received the PIONEER Award from the National Institutes of Health, and two Emerging Frontiers in Research and Innovation (EFRI) Awards from the National Science Foundation for his transformative work in Regenerative Engineering. His work on engineering tissues was honored by Scientific American Magazine as one of the 50 greatest achievements in science in 2007. Dr. Laurencin was named the 2009 winner of the Pierre Galletti Award, medical and biological engineering's highest honor, and named one of the 100 Engineers of the Modern Era by the American Institute of Chemical Engineers. In 2012, his work on regenerating tissues was highlighted by National Geographic Magazine in its "100 Discoveries That Have Changed Our World" edition.