RICKEY YADA
University of British Columbia


THE ROLE OF FOOD SCIENCE AND ENGINEERING
IN FOOD SECURITY

By 2050, the world population is predicted to surpass nine billion people and it follows that the demand for available food, water, arable land, and related environmental impact assessment will rise dramatically. While food safety issues, nutritional deficiencies, postharvest losses, regulation inconsistencies, and consumer attitudes are already recognized as significant challenges to maintaining food security and sustainability in today's world, their effects will likely become even more striking in the face of global population increase. Among the possible solutions proposed to overcome these challenges are advancements in food processing technologies, nanotechnology, innovative food formulations and the use of genomics approaches, such as alternative protein sources, insect flour, nutrigenomics, 3D food printing, biomimicry, food engineering, and merging technology. This talk will focus on the role of food science and engineering in helping to meet current challenges as well as investigating possible solutions to feeding the world into the future.
Date/Time
Wednesday, MARCH 29, 2017
12:00 pm - 1:00 pm

Location
200 College Street
Wallberg Building
Room 116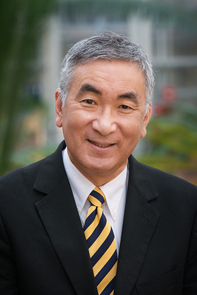 RICKEY YADA was appointed Dean of the Faculty of Land and Food Systems, and Professor of Food Science at the University of British Columbia (UBC) in Vancouver, BC in 2014. Prior to joining UBC, Dr. Yada was at the University of Guelph in a number of leadership roles, including Professor in the Department of Food Science, Chair of the Department of Food Science, Assistant Vice President Research, a Canada Research Chair in Food Protein Structure, and the Scientific Director of the Food Institute. He was also the Vice Chair of the Canadian Institutes of Health Research, Institute of Nutrition, Metabolism and Diabetes. Among other activities, Dr. Yada is a Member of the Board of Trustees International Life Science Institute – North America, the North American Editor for Trends in Food Science and Technology, and on editorial boards for several journals. He is also the author of over 200 refereed journal publications and several book chapters. Dr. Yada is a Past President and Fellow of the Canadian Institute of Food Science and Technology, current President and Fellow of the International Academy of International Union of Food Science and Technology as well as a Fellow of the Institute of Food Technologists.