MARKUS LINDER
Aalto University, Finland


MOLECULAR BIOINSPIRATION AND INTERFACES
Examples of the importance of controlling interfaces can be found all around us. Many applications in foods, adhesives, or materials depend on our ability to control how molecular components interact at interfaces. A familiar example is the use of amphiphilic molecules to create emulsions; however, we could think of controlling interfaces in far broader contexts such as coating surfaces to create sensors, producing extremely stable foams, or improving composite materials.
Looking at nature we find several similar questions that relate to interfaces: how do fungi grow on surfaces, how do pearls gain their excellent mechanical properties, or how do barnacles stick to rocks? In molecular biomimetics we shed light on the structure and function of the molecules involved in these interactions with the objective of solving technical problems. With this underlying aim, my group has studied fungal adhesive proteins (hydrophobins), cellulose-binding proteins, and material-binding peptides. The fundamental knowledge we obtained of these systems enabled us to engineer fusion proteins for applications which include the functionalization of graphene, the construction of nano composite materials, and the stabilization of colloidal dispersions. We envision that in the future engineered proteins and biomimetics will be used widely in technical applications that involve control of interfaces.
Date/Time
Wednesday, November 25, 2015
12:30 pm - 2:00 pm

Location
200 College Street
Wallberg Building
Room 116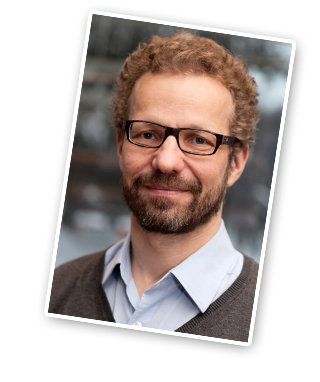 MARKUS LINDER is the Professor of Biomolecular Materials at Aalto University's School of Chemical Technology in Finland and holds the position of Vice-Director of the Centre of Excellence in Molecular Engineering of Biosynthetic Hybrid Materials (Academy of Finland). He is a member of the Finnish Society of Sciences and Letters. His main interest is in understanding biological design strategies found in nature for application in materials science. More specifically he is interested in the function and assembly of proteins at interfaces and the use of protein engineering as an approach for materials design.
Before joining Aalto University's faculty, Markus completed his PhD in applied biochemistry jointly under the supervision of Göran Peterson at Uppsala University (Sweden) and Tuula Teeri at VTT Technical Institute of Finland on structure-function relationships in fungal cellulases. From 2006 he held a post as an Academy of Finland Research Fellow working on fungal hydrophobin proteins before becoming a research Professor at VTT in 2009 turning his focus towards biological and bio-inspired approaches for nanomaterials. In 2012, he joined the faculty at Aalto University.
In addition to his scientific impact, Markus has played a role in advising the public about the possibilities and risks of biomaterials and nanomaterials. He is also an iGEM-team instructor, and is head of the doctoral education programme at the school of chemical technology at Aalto University.
In his spare time he enjoys woodworking and boating in the Finnish archipelago.